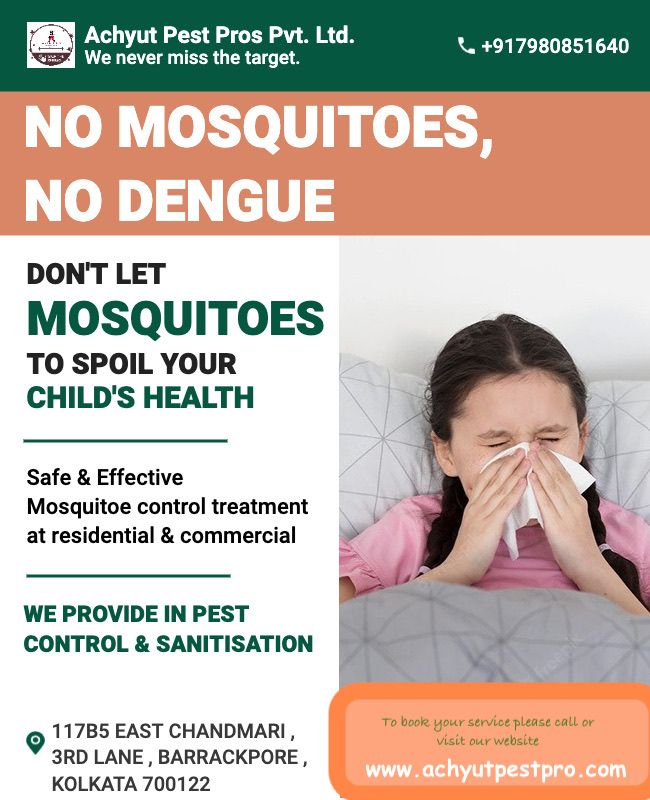 Anti-Mosquito/Dengue/Malaria Service
Pre Booking Amount : ₹300.00
Total Package : ₹7999.00
Note : Rates are negotiable as per client's requirements.Please call for final rate.
Application of Thermal Foggers by ULV method : At Achyut Pest Pro, our Mosquito Control Services by ULV method in Kolkata is destined to hunt down the flying mosquitoes at this particular time with the help of Thermal Foggers. A fogging solution is heated to create a dense and thick fog and directed towards the places with active flying mosquitoes. This facilitates to kill and eliminate the mosquitoes, quick and efficient.
Thermal Fogging , Insecticides Spray & Cold fogging service also available.
Why Choose Us ?
Family Owned and Operated.
Award-Winning Services.
Master-Technicians.
Safe & Effective Pest and Germs Controls.
Green Approach.
In-House quality Assurance.
Quick-Response Time.
Highest Quality Work.
Unique Treatment Methods.
Personalised Solutions.
Certified & Highly Trend.
Licensed in all categories.
While we are always hard at work,improving the quality and range of our services,every team member knows that successful solutions
begin with listening carefully and asking Questions. It is the only way for us to fully understand and solve your problems.
---