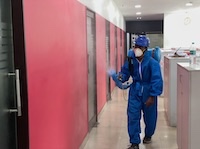 Disinfection/Sanitization Service
Pre Booking Amount : ₹300.00
Total Package : ₹1200.00
Pre-Treatment
Wearing of approved Standard PPEs for protection from the COVID-19 Virus.

Use of Hand Sanitisers at every stage.

Only skilled technical experts carry out the treatment.

Separate quarantine area at the treatment site for Donning PPEs

.
Post-Treatment
Decontaminate PPEs before the removal.

Disposal of PPEs (Biohazard waste).

As per regulatory compliance. No re-use.

Post-treatment survey report free of chemical vapours and microbes

.
We service all types of residential and commercial clients, including but not limited to:
PRIVATE HOMES.

APARTMENT BUILDINGS , CO-OPS AND CONDOMINIUMS.

NURSING HOME AND ASSISTED LIVING FACILITIES.

OFIICES.

SCHOOLS AND DAY CARES.

RESTAURANTS , BAR & CAFES.

STORES , BANK , AND COMMUNITY CENTERS.

HOTELS , SPAS , GYMS , AND FITNESS STUDIOS.

Achyut Pest Pros Pvt. Ltd.(formerly known as " Cure It Pest Control")

has more than a decade of EXPERIENCE
as one of the most trusted environmental health & safety company in India.
Our technicians are professionally trained and experienced.We are certified by
"Occupational Safety and Health Administration(OSHA)".
Why Choose Us ?
Family Owned and Operated.
Award-Winning Services.
Master-Technicians.
Safe & Effective Pest and Germs Controls.
Green Approach.
In-House quality Assurance.
Quick-Response Time.
Highest Quality Work.
Unique Treatment Methods.
Personalised Solutions.
Certified & Highly Trend.
Licensed in all categories.
While we are always hard at work,improving the quality and range of our services,every team member knows that successful solutions
begin with listening carefully and asking Questions. It is the only way for us to fully understand and solve your problems.
---